Twitter has announced that it will remove the "legacy" blue checkmark badges from verified accounts on April 1st. Any accounts that were verified under the old system will no longer have the blue checkmark badge on their profiles unless they subscribe to Twitter Blue. This decision is part of Twitter's ongoing effort to make the verification process more transparent and streamlined for all users.
In December of 2021, Elon Musk, the CEO of Tesla and the new boss of Twitter, tweeted that the company planned to remove all legacy blue checks, citing that the method used to give them out was "corrupt and nonsensical." Twitter has stated that it will contact affected users and provide them with information on how to reapply for verification under the new system. Furthermore, the company has said that users previously verified under the old system will be given priority in the new verification queue.
Interestingly, this announcement coincides with the news of the global availability of Twitter Blue, a subscription service that provides exclusive features such as fewer ads, priority ranking in conversations, bookmark folders, and longer tweet lengths. Twitter's blue checkmark badges have been a symbol of status and influence on the platform since their introduction in 2009. Originally, they were intended to verify that a user, public figure, celebrity, or brand was an authentic and notable account of interest.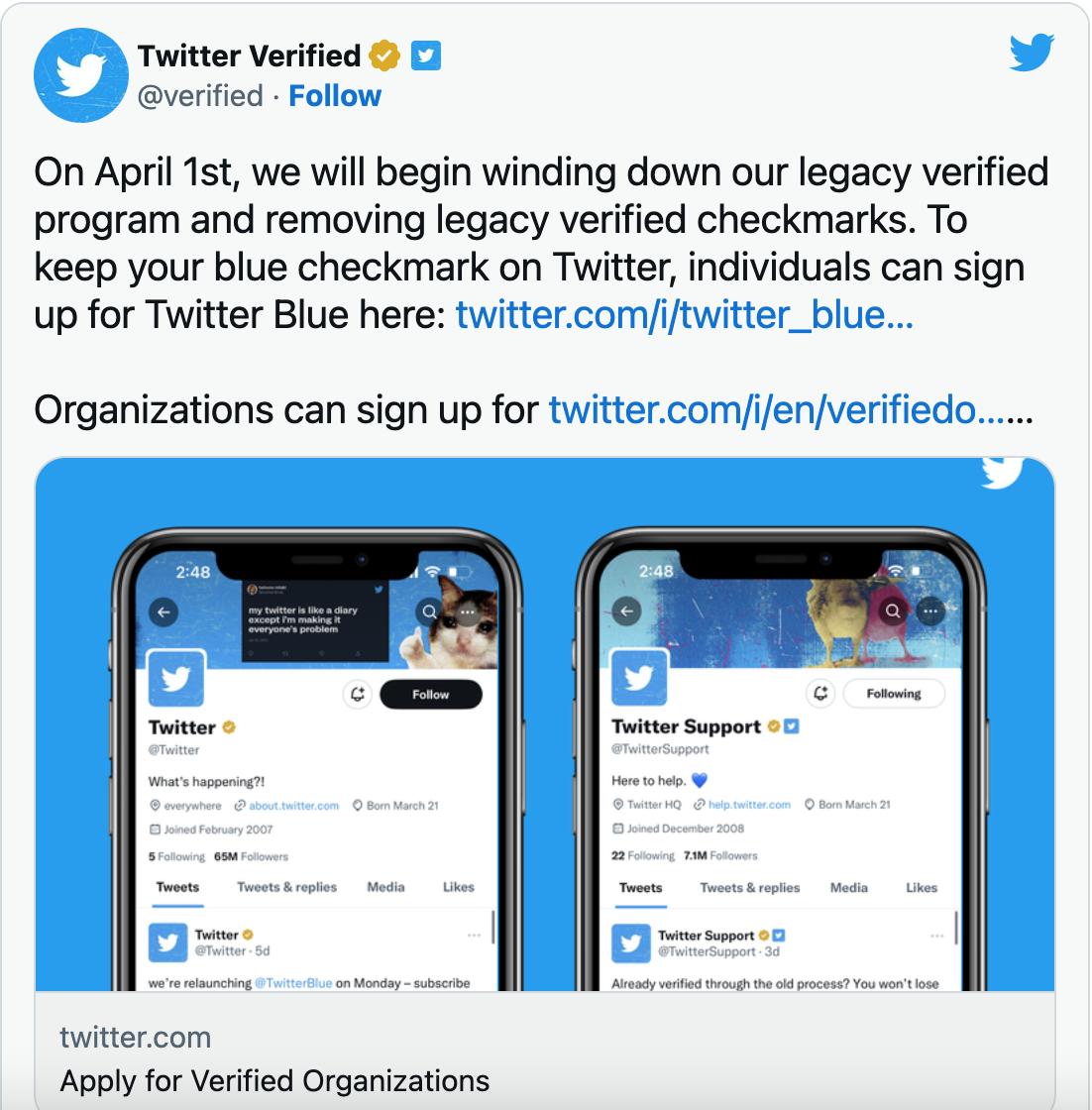 In 2021, Twitter revamped its verification program to allow users to apply for verification and make the process more transparent. As part of the changes, Twitter introduced new eligibility criteria and a new verification application process. However, the company also acknowledged that many accounts had been verified under the old, more opaque system and that it would take time to address these legacy verifications.
Since Elon Musk's takeover in 2022, the verification process has become a paid feature that anyone can acquire for $8 per month. However, signups on iOS and Android will cost $11 per month due to app store costs. This caused an uproar on the platform and a long debate among users about the move.
Twitter's decision to remove legacy verifications and encourage users to reapply under the new system is a positive step toward making the verification process more transparent and fair for all users. The blue checkmark badge has been a symbol of status on Twitter for over a decade, and while its meaning may have evolved over the years, it remains an essential part of the platform's culture. It will be interesting to see how this move affects the platform and its users.